About Meanwhile Gardens
Introduction (extracts from 2007 & 2006 annual reports)
32 years ago, as crumbling canalside terraces were being cleared, a local sculptor named Jamie McCullough wondered if this derelict wasteland could become a community garden. He asked the local authority (Westminster at the time) for permission to turn the rubble into a park. Westminster gave temporary permission – hence the name, Meanwhile. The name stuck and the Gardens prospered.
In 2006 Meanwhile Gardens proudly celebrated its 30th anniversary! Over the years through the support of many, many volunteers and a dedicated staff team, the Gardens have continued to thrive. What was once four acres of derelict wasteland is now a lush oasis in a densely populated part of North Kensington, where there is a recognised lack of green space.

The Gardens are designed to welcome people with a wide range of interests. Nature lovers enjoy the exotic and native plants, lovely mixed borders and wooded areas; school children often visit our large pond with its wealth of wildlife. At one end of the Gardens, a scented courtyard offers space for quiet contemplation; at the other end, our free state-of-the-art skatebowl draws hundreds of skateboarding enthusiasts all year round.
Set within the Gardens, our Playhut offers a safe, stimulating play and learning environment, helping to fulfil young children's emotional, physical and cognitive needs. This service helps to break down the isolation often experienced by carers of young children, providing an opportunity for them to build friendships and share common concerns.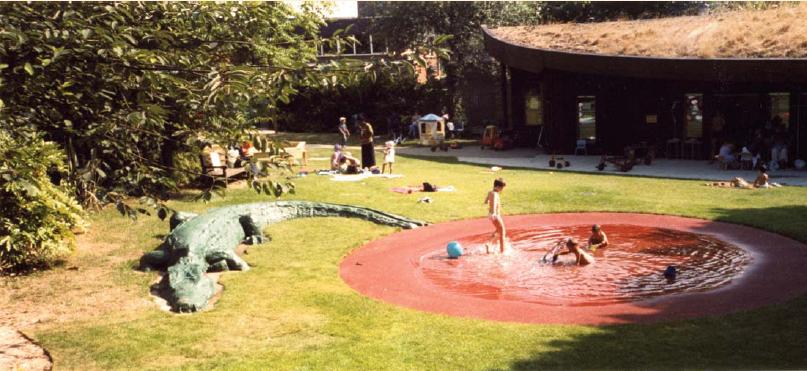 The Gardens themselves provide opportunities for volunteering and educational schemes. Under our gardeners' supervision we also support youth offenders carrying out their reparation orders.
The Wildlife Garden Project, run by Kensington & Chelsea Mind, works with adults who have experienced mental health difficulties, and uses horticultural training and social enterprise to help with recovery and social integration. With its small pond, great variety of wildflowers and rich wildlife, it is also a lovely place for a picnic!
Over thirty years on, we are delighted to continue offering opportunities for local residents to enjoy safe open-air leisure, play, training and education in a unique community garden.
For more information please see our Annual Reports.
Registered Charity No. 296921 Registered Company No. 2134343
© Copyright Meanwhile Gardens Community Association 2007-8